Camp CAN-I-COOK
Where else can your child leave the house for a few hours and come home with gained culinary skills, new friendships, original YCA recipes, and memories to utilize and last a lifetime? You got it, only at Young Chefs® Academy! Camp Can-I-Cook is scheduled according to local school schedules and are available during holiday breaks, scheduled school closings, and of course summer break!

See our schedule below and get your child signed up for camp today!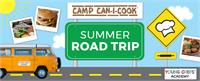 Summer Road Trip

with

YCA

Teacher
Next held on Thu, Aug 16, 2018 at 1:00 pm - 4:00 pm
This
enrollment
runs from Tue Aug 14, 2018 - Thu Aug 16, 2018
Have you ever dreamed of going on a culinary food trip through the United States? Join us as our taste buds travel and explore cuisines from coast-to-coast during this culinary escapade! Buckle up for adventure!

During the final day of camp, Young Chefs™ will use their creativity to develop recipes based on the skills, techniques and flavors discovered throughout the week!
Online registration is closed. Please contact us for details.